Article Difficulty:





this article will explain what is a PXE system, and how to install an Open Source project called: ERPXE.
Installing ERPXE Windows Server
Download TFTPD32
Download the latest version of TFTPD32 for Windows. this tutorial assumes you've downloaded [tftpd32 standard edition (installer)] but you can download the service edition, or any other as well.

Install it…
When you're asked to specify a target directory, insert "c:\tftpboot" as recommended by http://www.erpxe.com. it's does not really matter, and you can leave the default or choose your own destination, as long as you are in control.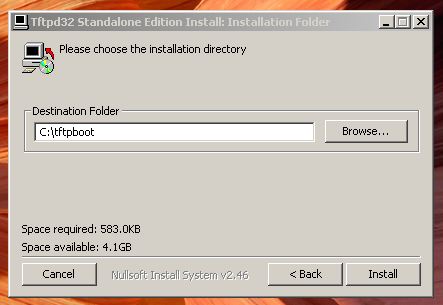 If windows security alerts you, you can allow the TFTP server to communicate with your private network.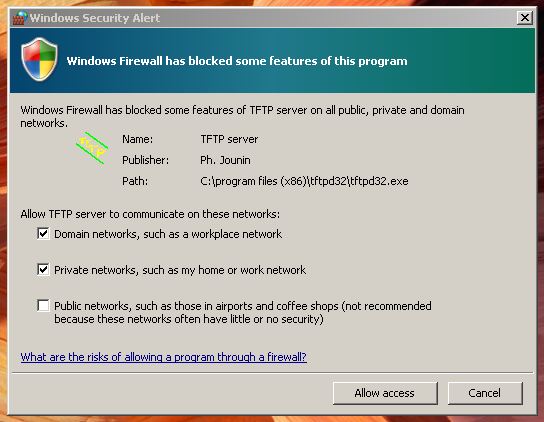 Configure TFTPD32
you should see that the 'Current Directory' is the directory you've installed TFTPD32 to. you can map it to another directory. this directory will hold the entire ERPXE system. if you've  installed to an other directory than "c:\tftpboot", you can create it now and change the 'Current Directory' to point to 'c:\tftpboot'. many plugins are pre-configured to use this directory by default, and you may need to do manual changes to work with another directory, so it's better to use 'c:\tftpboot' for your convenience.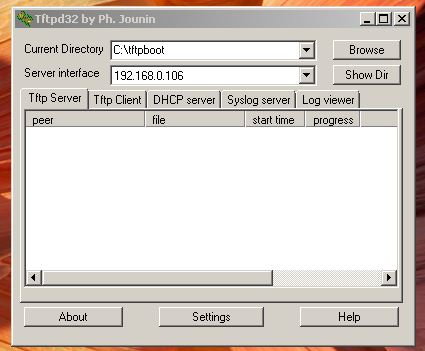 make sure that you're using the right 'Server Interface' which is connected to your local WAN. Goto Settings. as for Tftpd32 v4.00 TFTP Server, TFTP Client, Syslog and DHCP server are enabled by default. you need to check only TFTP Server. for DHCP-Server, if you currently manages your network via a Router, please check if it has support for PXE. if your router doesn't support PXE you need to replace it. if you have an other DHCP solution you must apply rules 66, 67. check this for more information
if you don't have a PXE enabled DHCP in your network, or don't have any DHCP at all, you can leave DHCP-Server on. leave everything else as default.
Download ERPXE
first, download the latest version of ERPXE from http://www.erpxe.com/downloads/ or direct-download it here.
unpack ERPXE into C:\ if you set TFTPD32 working directory as was recommended eariler ('c:\tftpboot'). if you are using another directory, copy the content of the folder 'tftpboot' inside the erpxe.tar.gz to that directory. your ERPXE server should work now, and you can PXE BOOT computers on your network.
Setup plugins
ERPXE comes with only several built-in plugins. you can download from http://www.erpxe.com/downloads more plugins. everyplugin has it's own installation process. read how to at http://erpxe.org/index.php/Plugins.
some plugins may need HTTP, SAMBA or NFS to work. you can check at the erpxe.org wiki for every plugin prerequisities. the best solution would be to enable all three on your server. more instructions on: 'Setup Shares' @ http://erpxe.org/index.php/Setup_ERPXE_windows_server
Watch those great video tutorial:
http://www.youtube.com/watch?v=FtW8a_N1RvQ